Scheda Tecnica
Duration: 5 hours approx.
Difference of level: mini.: 32 m - maxi.: 631 m
Difficoltà: trail not very well indicated, sometimes obstructed by the vegetation.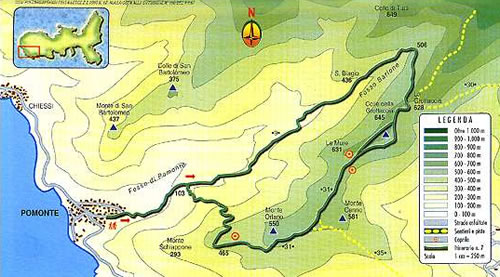 We start from Pomonte's Square and we walk on the left, watching the mountain, by taking the path n° 4 that begins on the last town's houses and crosses the left side of the valley. At the beginning we meet terraces still cultivated that become rare when we go away and get up.
The path we follow is the old mule-track that led Pomonte to Marciana and after an hour we reach a place called "La Terra", composed by tabelands where terraces are wider than before; there are some ruins of houses used as storehouses when the area was cultivated.
Until the beginning of last century this area was inhabited and we can still see the rests of ancient installations and of two churches: San Bartolomeo's church, on rocky buttress dividing Pomonte's valley from Chiessi's, and S. Sebastiano's church, about two km. on North, under the path that goes to Madonna del Monte.
On "La Terra", the path n° 4 crosses the path n° 10, and we'll follow that. Reached the crest of this Capanne's group into Tabella - Monte di Cote's area we descent to "Stretta", where we meet the path n° 54 that leads to the road linking Marciana and Madonna del Monte; here we descend rapidly to Town, where our route ends.
All the route is valid to discover flying rapacious and many different birds, in conformity with the season.
We cannot forget that Elba is a propitious platform for stop and shelter of migratory flow of high Tyrrhenian volatiles. Standing fauna is constituted by the Red Partridge, the Buzzard, the Kestrel, the Goshawk, the Dormouse, the Hare, the Wild boar, the Marten and the Mouflon, that is the most fascinating meeting we can do if we are helped by wind and we proceed without make a noise.
Right areas for the mouflon are those of Pomonte's valley, that are very high. The area where it's easier to sight the fauna is the "Stretta" that is almost an obliged passage through western valleys and wide Marciana's valley.
Map from the book:
"Sentieri nel Parco Nazionale dell'Arcipelago Toscano"
Author: Giorgio Leonelli / Editore: Il Libraio, Portoferraio