1. The trail of the hermits
Scheda Tecnica
Duration: 4 hours and half (one way only).
Difference in level: mini.: 33 m - maxi: 630 m
Difficulty: quite well indicated, for everybody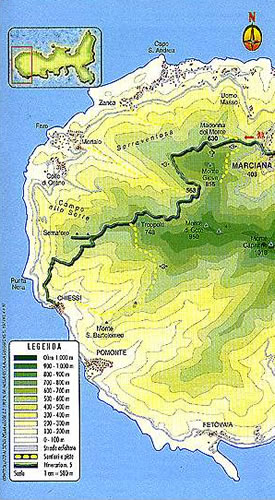 This is an excursion for people who wants to walk only for some hours, in a route between verdant woods, rocky tops, and finally a beautiful dive into the transparent north-western sea.
We start soon in the morning from Sant'Andrea's Cape, we go up towards La Zanca through the old but well-preserved mule-track and we come on to path n° 13 that leads, after a 30 minutes walk, into one of the finest woods of the island.
Through secular chestnutts and other high trees, we reach Madonna del Monte (630 m., 2 hours), where you can take refreshment with water gushing from cloister's springs and enjoy the coolness offered by chestnutts and pines shading near clearings.
Until fairly recently, this bridle path was the only overland link between Marciana and the villages along the island's west coast. Despite general neglect and the damage wrought by modern 4x4 vehicles, it is still in good condition in many places.
The bridle path, which leads up to the sanctuary and hermitage, is flanked by a series of 14 tiny frescoed chapels. Dedicated to the Way of the Cross, the chapels are evidence of the fervent traditional religious sentiment of the people of Marciana. It takes around 40 minutes to walk up to the hermitage, passing chestnut trees and the Mediterranean maquis along the way. San Paolo della Croce stopped to pray at the hermitage in 1735; in 1814 Napoleon I stayed here, as shown on a memorial plaque
The area is also interesting under archeological aspect, because here there are a lot of caves ruins of shelters used by island's inhabitants since prehistory. Who wants to go higher can easily reach, in 25 minutes, overhanging Monte Giove's top (800 m.), one of the most panoramic places of western area, and descending on west crest until Serraventosa; here there are a beautiful well-preserved goatfold, some pens and strange beautiful rocks, with Sant'Andrea's Cape, Marciana, Corse and Capraia's background.
From Serraventosa it's easy, through a planning road, to return to Madonna del Monte. After the break and the refreshment we can start again on the afternoon and, by descending on path n° 3 and then on path n° 13, we reach the Provincial road on San Rocco after another beautiful chestnutt- wood. We run along for 1,5 km. on Provincial road until Maciarello's road-fork.
From Maciarello we descend towards Cotoncello - S. Andrea (The path to Cotoncello - S. Andrea begin on the left, near an Enel cabin).
Map from the book:
"Sentieri nel Parco Nazionale dell'Arcipelago Toscano"
Author: Giorgio Leonelli / Editore: Il Libraio, Portoferraio